Depilatory Wax/Warmers
Depilatory Wax Warmers
Makes hair removal easy, convenient and safe. It quickly and
evenly heats wax for all of your depilation needs.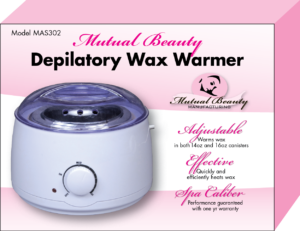 Features of the warmers include:

Keeps wax at a constant ready-to-use temperature
Quick even heat-up
Separate on/off switch
High quality, all-steel space-saving construction
Holds 14 oz & 16 oz containers, or loose wax
Variable thermostat control and temperature light
2-year limited warranty

Depilatory Wax
Leaves legs, underarms, bikini line and facial areas soft and smooth. The wax is recommended for all skin types, and was developed specifically for gentle hair removal.
Firmly grips even fine and short hair
Size: 14 oz (397g) canisters

Applicators
Mutual Beauty Manufacturing's high quality wax applicators are ideally sized for eyebrow, facial and whole body use.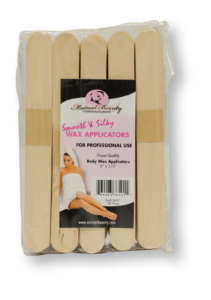 For More Information, or to Place an Order, Please Call 856-985-1737
National Sales 215-927-6000
Email to info@mutualbeauty.com
Wax Warmers and Accessories
| MODEL | DESCRIPTION |
| --- | --- |
| MAS302 | Depilatory Wax Warmer |
| MAS350 | Wax Collars-50 pk |
Depilatory Wax
| MODEL | DESCRIPTION |
| --- | --- |
| MAS320 | Honey Depilatory Wax |
| MAS322 | Azulene Depilatory Wax |
| MAS324 | Tea Tree Depilatory Wax |
| MAS326 | Lavender Depilatory Wax |
| MAS328 | Natural Creme Depilatory Wax |
Applicators
MODEL
DESCRIPTION
36501
Body Wax Applicator
6" x 3/4", 100 pk
36502
Eyebrow Wax Applicator
4 1/2" x 3/8", 100 pk
36503
Facial Wax Applicator
5 1/2" x 1/4", 100 pk
36507
Body Wax Applicator
6" x 3/4", 500 pk
36509
Eyebrow Wax Applicator
4 1/2" x 3/8", 500 pk
36508
Facial Wax Applicator
5 1/2" x 1/4", 500 pk